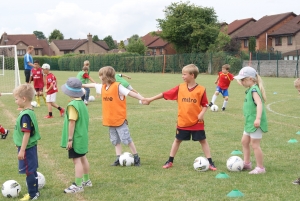 Holiday Courses
We are very proud of our unique holiday courses. We have received fantastic feedback from teachers, parents and most importantly the children who attend.
Not only are our camps affordable, they provide a great opportunity for your child to stay active and continue to learn and develop in the school holidays.
In a safe sporting environment your child will learn to work in a team, grow in confidence, understand the importance of sportsmanship, pick up new skills and most importantly have fun whilst doing so!
Soccer Camps
Football All Day Every Day!  Our three founders all currently work within a professional football club's academy so as you can imagine Soccer Camps are, personally, our favourite type of holiday course.  A normal day will include ball mastery skills, coaches v kids challenges, a technical practice and of course a  world cup style tournament to finish the day!
Example of Soccer Camp Day Plan
8:45 – 9:30 Sign in / Arrival Games
9:30 Welcome Speech
9:40 Football based activity e.g crossbar challenge
10:45 Snack Break
11:00 World Cup Style Tournament
12:30 Lunch
1:00 – 3:15 Tournament continued
3:00 Wrap up Speech and Children Sign Out
Multi-Sports 
An Active Development Multi-Sports Course consists of a combination of our popular fun based activities like Dodgeball and Capture the Flag with the children's favourite sports like Hockey and Athletics.  We always say to the children the course is about them and we often allow them to decide the days activities, our coaches always strive to ensure EVERY child goes home happy. We also often run themed competitions for the children to enter, for example 'Design an Easter Sportstar' or a 'Spooky Sportstar' at Halloween.
Example of Multi Sports Day Plan
8:45 – 9:30 Children Arrive
9:30 Welcome Speech
9:40 Sport e.g Athletics
10:45 Snack Break
11:00 Activity Break e.g Ask the Coach
11:15 Sport Based Activity e.g Dodgeball
12:30 Lunch
1:00 Activity Break e.g jokes and riddles
1:15 Sport e.g Football
2:00 Fun Sport Based Activity
3:00 – 3:15 Circle Games and Signing Children Out
Holiday Course Arrival/Collection Times
Children can arrive any time between 8:45 – 9:30
Children can be collected any time between 3:00 – 3:15 
If you need to pick your child up during the day please tell a coach in the morning
NUT POLICY – WE ASK THAT YOU AVOID INCLUDING NUT PRODUCTS IN YOUR CHILD'S PACKED LUNCH
Up and Coming Holiday Courses
Paulton Junior School (Bath BS39 7QY)
We will be returning to Paulton Junior School in Summer 2023
CLICK HERE to use our Brand New user friendly online booking system!

"It's the best thing ever" Pupil, Paulton Junior School
"The staff have always been professional and enthusiastic" Parent, Paulton Junior School
"Thank you providing a great active week for my children" Parent, Paulton Junior School

"Active Development ensured lively, fun and engaging activities whilst giving the children quality sports coaching at the same time. Professionalism and first class organisation means no hassle for us. Perfect!" Matt Grosvenor Head Teacher, Paulton Junior School

"I've run many of these holiday courses in the past for various companies, on behalf of schools and for community learning partnerships. Each course has been thoroughly enjoyable; it's so rewarding seeing children go home delighted and receiving fantastic feedback from parents" Nathan Loader, Founder of Active Development