Active Development Coaching Standards
We pride ourselves on maintaining our high levels of quality sports coaching.
All of our sessions are led by one of Active Development's experienced head coaches.
All of our Head Coaches are subject to an enhanced CRB
Coaches will be fully briefed on your schools behaviour management and child protection policies
Head Coaches have spent 40+ hours shadowing the founder to ensure sessions are delivered the 'Active Way'
Coaches regularly attend CPD events
All Head Coaches have attended first aid workshops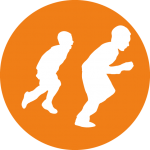 Our Coaching Philosophy
Our philosophy is derived from a combination of research and time spent coaching, we believe in practice and guided discovery, we encourage creativity and problem solving. To further this we believe contact time is crucial and where possible we try to ensure each child has as much exposure to practice as possible, for example if the sport in question was basketball each child will at some point have a ball each, this increases the number of touches of the ball and therefore more time to practice a particular technique, allowing the child to achieve.
Nathan
Head Coach and Co Founder
Nathan has delivered P.E Lessons/ PPA sessions, After School Clubs and ran Holiday Courses at many different schools in the South West since 2010. He is a Level 3 qualified coach who has experience delivering entire P.E curriculums, using various schemes of work, for both KS1 and KS2 children. Nathan also works as an academy coach at Southampton Football Club.
Tyler
Head Coach and Co Founder
Tyler completed a host of sport based qualifications while studying at Bath University and has been coaching full time since 2011.  He holds a Uefa B Licence and is currently an Academy Coach at Southampton F.C.  Tyler is a also a Semi-Professional footballer with former clubs including Swindon Town, Weymouth, Team Bath, Frome Town and Larkhall Athletic.
Cobi
Head Coach
Cobi began working casually with Active Development in 2015/16 and became an integral part of the team in 2016/17 delivering PPA sessions, ASCs and leading holiday courses full time in 2016/17.  He is a level 2 qualified coach and is currently working towards his FA Youth Award, while coaching elite young players on Southampton FC Development Centre Program.
Michael
Head Coach
Mike has been coaching casually with Active Development since 2014 alongside his other commitments. Originally from London, Mike moved to the area to attend Bath University, from which he graduated in 2012 with a Degree in Sports Performance.   Mike is Uefa B License coach, part of the academy staff at Southampton FC and from Summer 2017 will be leading our Soccer Camps in Gotherington, Gloucester.
Jake
Head Coach
Jake has been coaching casually with Active Development since 2015.  He is a University of Bath graduate & former Team Bath athlete.  Jake has a bright future in football coaching he currently holds FA Youth award and is an academy coach with Southampton FC.  Jakes instrumental in our summer holiday course program at both Paulton & Gotherington.
Nicole
Assistant Coach
Nicole holds a junior sports leader award, she currently assists Head Coaches on our Holiday Courses at Paulton Junior School.  She is a keen dancer and gymnast and is very popular with the children on our holiday courses.